Plants
Abelia X Grandiflora (Glossy Abelia)
Overview
Abelia X Grandiflora is a hybrid cross between Abelia Chinensis and Abelia Uniflora. First developed in Italy, this plant has an active growth period in the summer and the spring. The plant leaves are dark green, and its flowers are of pinkish-white color. This shrub may reach up to 7 feet in height and possess arching and spreading stems, which can be easily shaped. It is well-adapted to sun and soil conditions. It easily grows in average to well-drained soils. It also grows in both full sun and partial shade conditions.
Quick Review
| | |
| --- | --- |
| Botanical Name | Abelia X Grandiflora |
| Common Name | Glossy abelia |
| Major Group | Dicot |
| Family | Caprifoliaceae |
| Genus | Abelia R. Br. |
| Species | Abelia X Grandiflora |
| Symbol | ABGR4 |
| Common Name | Glossy abelia |
| Legal Status | L48   I |
| Known Hazards | None |
Synonyms & Vernacular Names
| | |
| --- | --- |
| Common Name | Glossy abelia |
| Botanical Name | Abelia X Grandiflora (Rovelli ex André) Rehder |
| Botanical Synonym    | Abelia Rupestris Hort., Linnaea Pringiana Graebn., And L. Spaethiana Graebn |
| English Name     | Glossy abelia |
| French Name | Abelia Glossy |
| Hindi Name | Glossy Abelia |
| Portuguese Name | Abelia Brilhante |
| Spanish Name | Abelia Brillante |
| Latin Name | Abutilon glossy |
Plant Taxonomy
| | |
| --- | --- |
| Kingdom | Plantae |
| Subkingdom | Viridiplantae |
| Infrakingdom | Streptophyta |
| Super Division | Embryophyta |
| Division | Tracheophyta |
| Sub Division | Spermatophytina |
| Class | Magnoliopsida |
| Super Order | Asteranae |
| Order | Dipsacales |
| Family | Linnaeaceae |
| Genus | Abelia R. Br. |
| Species | Abelia X grandiflora (Rovelli ex André) Rehder – glossy abelia |
Plant Description
| | |
| --- | --- |
| Type of Plant | Shrub |
| Native Range (Geographic Distribution) | North America |
| Height (grows up to) | 7 feet |
| Habitat (a type of environment) | Deciduous to semi-evergreen |
| Roots | 12 inches in depth |
| Stem | Thin, grey, multiple |
| Leaves | Dark green, medium texture |
| Flowers | Pinkish white, conspicuous |
| Fruits | Brown in color, non-ornamentally significant |
| Seeds | Brown in color |
| Bloom Time | Late summer. |
| Bloom Description | Blooms are pink |
| Sun | Full sun to partial shade |
| Water | The well-drained and moist environment is required. |
| Maintenance | Can be heavily pruned. |
| Suggested Use | Summer bloom, hedge, foundation planting, to attract butterflies. |
| Flower | Tubular form, fragrant, pinkish-white |
| Leaf | Deciduous, simple, rounded leaf base, dark green |
| Attracts | Butterflies and bees |
| Tolerate | Shade and pests |
| Invasive Potential | No |
| Growing Season | Late summer |
| Others | It is an insect-resistant variety and is used to attract bees. By the beekeepers. |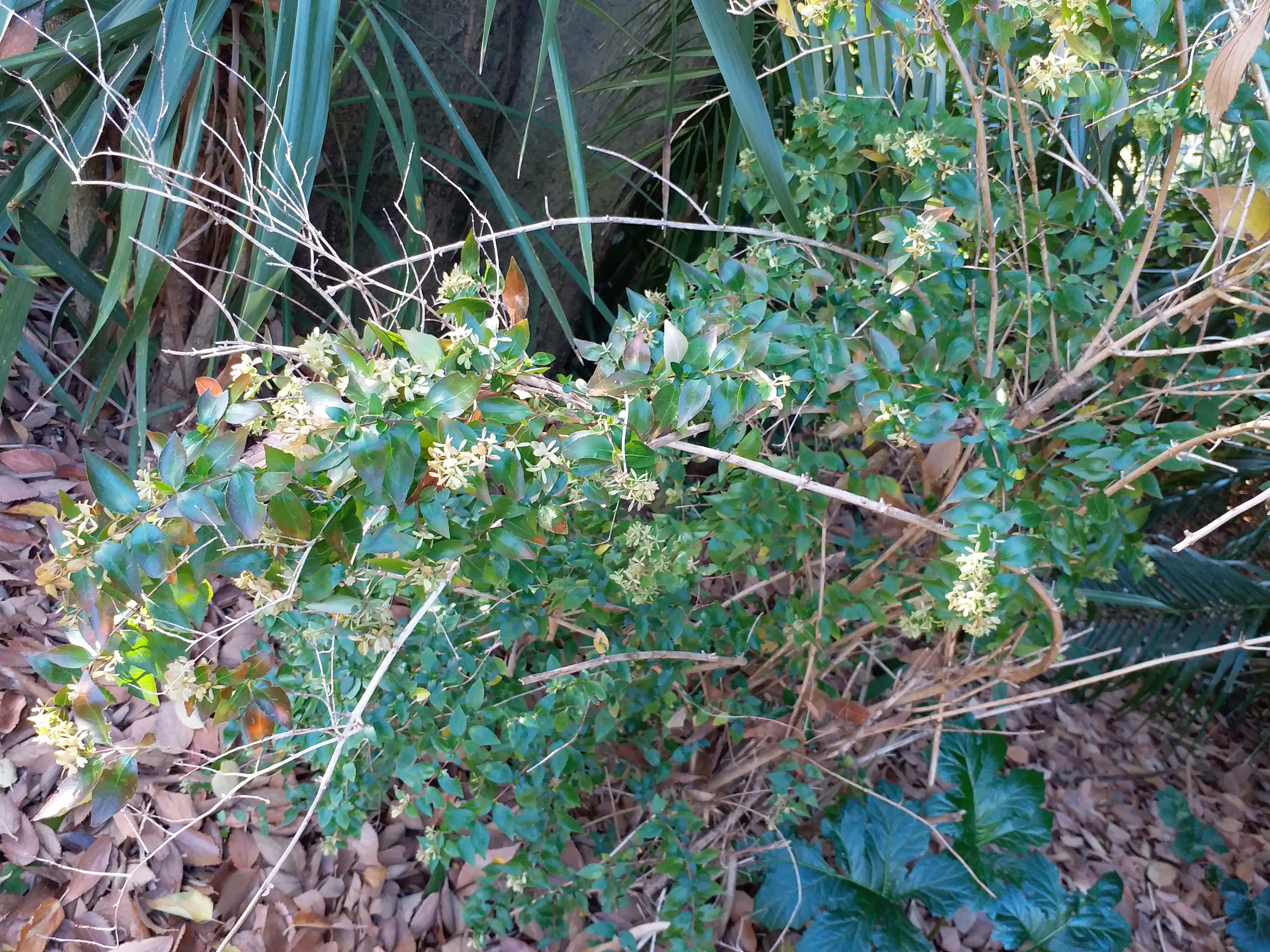 Phylogeny
This plant is a hybrid Abelia and is raised by hybridizing two Abelia species namely, A. Chinensis with A. uniflora. It was developed in Italy and is a long-day plant. Life-span of this plant is about 5 to 20 years.
Distribution & Ecology
The flowers of Abelia Grandiflora are conspicuous; however, the fruits and seeds are not. Apart from being a nursery stock, this plant has no other significant uses for humans or animals.
It is used as an ornamental plant in gardens, in mixed border shrubs, superior hedge, or cascading down a wall.
Habitat
Abelia grandiflora is a perennial plant that grows in deciduous to semi-evergreen conditions. It can tolerate shade, low temperature up to -13̊F and hedge.  Its foliage density decreases with an increase in shade.
The plant is also having a low-tolerance towards salinity and is adapted to coarse as well as medium textured soil. The shrub is also able to tolerate moderate drought. Once established, it develops good tolerance to drought.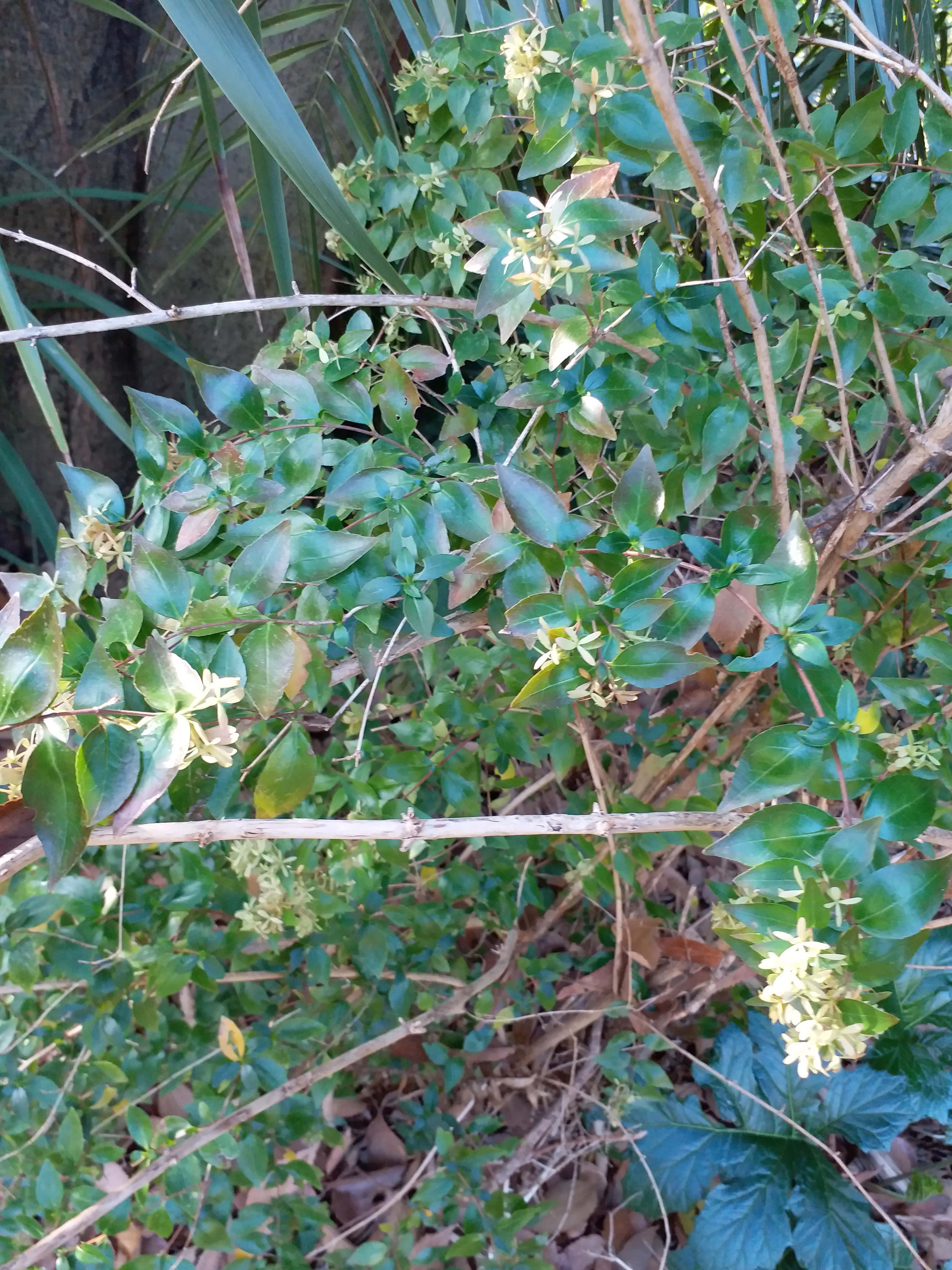 Ethnobotany
Abelia grandiflora seeds are ethnopharmacologically used to treat blood in urine, in India. The seeds are boiled in buffalo milk, and the product is consumed orally, once daily, for three days. (1)
Propagation
Abelia grandiflora is propagated by cuttings, bare root, or containers.
It does not propagate by other methods like bulbs, seed, sod, spring, tubers, etc.
Phytochemistry
Abelia x grandiflora has been reported to possess phytochemicals like:
Phenylacetaldehyde (2)
Benzaldehyde (2)
2-phenylethanol (2)
Benzyl alcohol (2)
Abeliosides A and B (3)
Cantleyoside (3)
Medicinal Uses
Abelia x grandiflora has antimicrobial properties. Scientific studies have shown that it inhibits the growth of pathogenic organisms Bacillus subtilis, E. coli, S. aureus, P. vulgaris, P. pneumonia. (4)
The seeds are used to alleviate the symptoms of blood in urine. (1)
Medicinal Parts
Seeds
Roots
Antibacterial activity
The silver nanoparticles derived from the roots of Abelia grandiflora have been found to inhibit the growth of various pathogenic micro-organisms. The growth of causative agents of colitis, pneumonia, urinary tract infections is obstructed by Abelia grandiflora, showing its potential medicinal uses. (4)
Hematuria
In India, Abelia grandiflora is used to alleviate the symptoms of hematuria, i.e., blood in urine. Hematuria is caused by the dysfunction of kidneys or urinary tract. Abelia grandiflora controls the disease by unknown mechanisms. (1)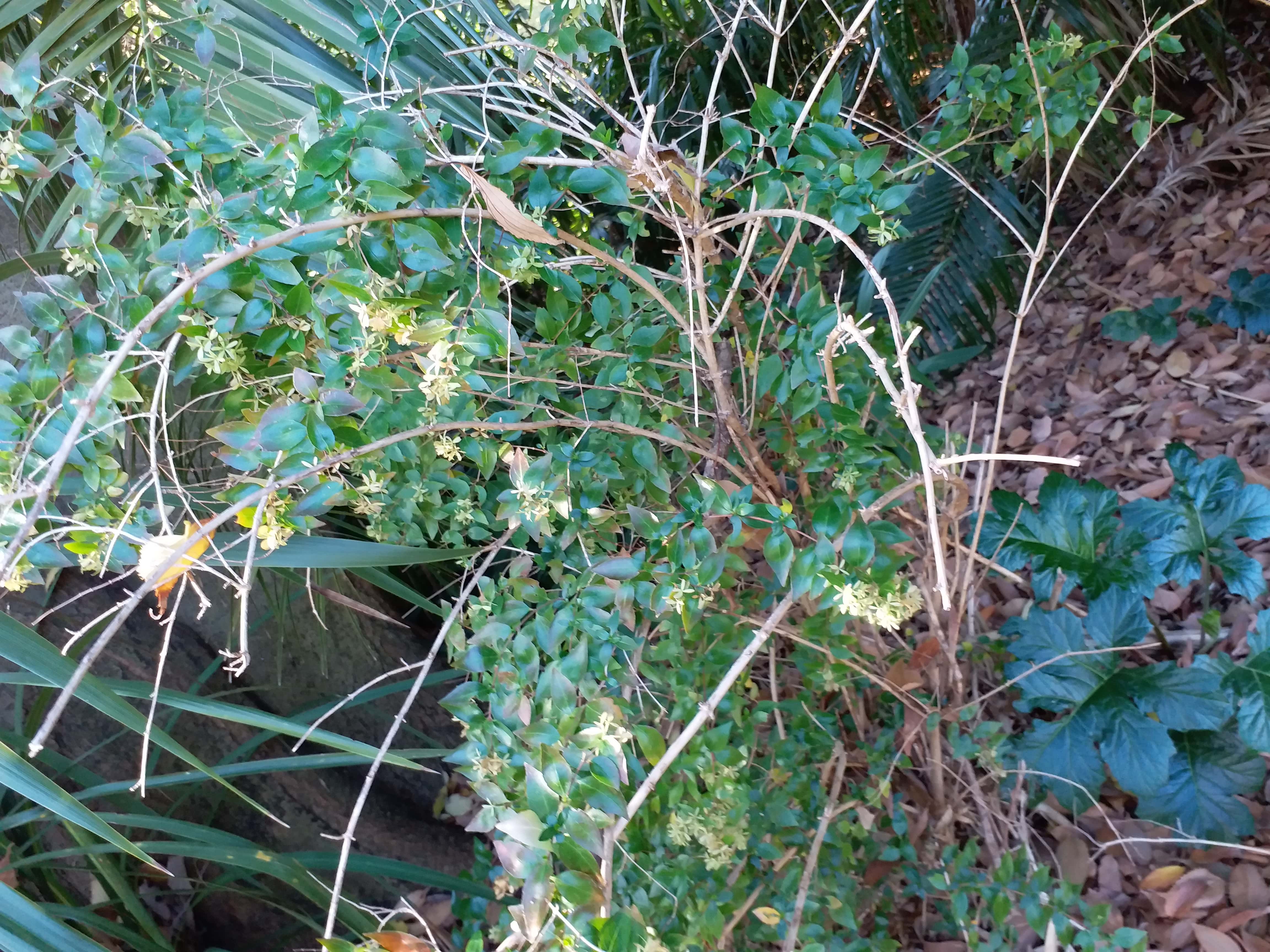 Side Effects
Abelia grandiflora is not known to possess any side effects.
Toxicity & Allergic Reactions
Any toxicities or allergic reactions of Abelia grandiflora are still not known.
Other Uses
Abelia grandiflora is used as an ornamental plant, hedge, for mixed shrub borders, and to attract bees. It can be used as an individual, or in masses. The mass of the plant is used on the slopes or banks, to control erosion, and for making an attractive shrubby cover.
References
Mangulkar MP, Routh MM, Shinde RB, and Karuppayil SS. 2012. Ethnic uses of medicinal plants from thirty-eight villages in India for gynecological care. Ethnic uses of medicinal plants from thirty-eight villages in India for gynecological care. Asian Journal of Traditional Medicines, 2012, 7(6):195-207.
Haynes KF, Zhao JZ, and Latif A. 1991. Identification of floral compounds fromAbelia grandiflora that stimulate upwind flight in cabbage looper moths. Journal of Chemical Ecology 17 (3): 637–646
Murai F, Tagwa M, Matsuda S, Kikuchi T, Uesato S, and Inouye H. 1985. Abeliosides A and B, Secoiridoid Glucosides from Abelia grandora. Phytochemistry. 24, 2329.
Sharma G, Jasuja NK, Rajgovind, Singhal P, and Joshi SC. 2014. Synthesis, Characterization and Antimicrobial Activity of Abelia grandiflora Assisted AgNPs. Journal of Microbial Biochemistry Technology. 6:5 http://dx.doi.org/10.4172/1948-5948.1000156.